7. You are now a published author: Re-purpose your content to articles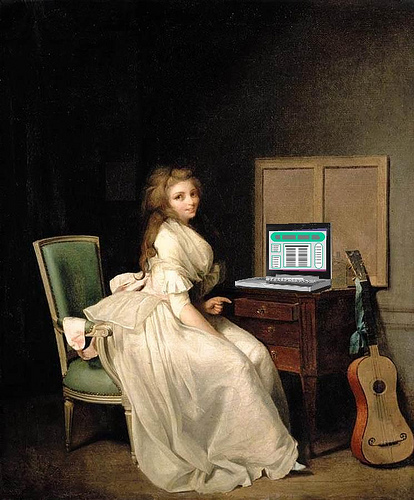 At this point, you've been blogging for awhile and are used to putting stuff up and online on a regular basis. Not only do you blog, but you also create audio, video, professional presentations, and graphics.
Congratulations, you are a published author! Maybe not highly paid with advanced royalties from a book deal, but published, anyway. (Don't worry, the skills and techniques you are learning here will take you in that direction if you ever decide to write for a living…) And factually, if you just practice and polish up the above, you'll see that you have the basic skills to do everything you see offered in those swanky sales pieces (like the one you fell for when you were scammed…)
I'm going off on a bit of a tangent right now and tell you one more venue of where to publish your stuff. Pay attention here, since this is going to be a bit technical – but it's also old-school and still brings a lot of traffic to your blog and helps you get your message out.
Early on, there was a popular way of providing content by getting people to write short pieces of information and then hosting them. These places are known as article directories. And there are thousands upon thousands of them. People even started creating an income through just writing articles and getting people to buy their stuff from their little web sites. There is quite a bit of history to them – too much to go into here. But you can start submitting to these with what you already know and the content you've already published.
Article directories are also another way to create incoming links to your blog. And the best ones can be voted up or down – so this is a logical extension of what we've already been talking about.
Now, not all article directories are the same value – and I'm going to give you the short list, but first we have to go over some points.

Duplicate Content Penalties
Search engines like Google quickly found out that people were trying to game their early algorithms by instantly posting massive sites. One of their solutions was to evaluate based on duplicative content and move those results over to an "additional results" section – meaning they won't show up unless you specifically ask for them.
If you simply posted to an article directory exactly what you wrote for your blog, it probably won't show up in Google – with few exceptions. And if you post the same article in several directories, most of them will only show up in those "additional results".
People I've followed in this area reports that you only have to change as little as 40% in order to have what Google considers "original" content. But the trick is in figuring this out. Here's a tool for you: Dupe-Free Pro – this is free software (OK, you get some tiny ads embedded in it) that does the deal on helping you edit your article and find what percentage is duplicate. Visit the site to get more information on it. Then download and install on your Windows machine. (You'll have to skip down to find a download link - this is a long and IMHO stupid, needless sales page.)
But, if you are going to be doing a lot of changing for the dozen top article directories, that's a lot of work. So here's another tool: Article Re-Writer. Most of the re-writing programs simply substitute other synonyms for the words you originally used. And the result usually is poor grammar and doesn't make sense. This one is a simple spreadsheet and has a video on that site which tells you how to use it. Essentially, you are creating three or four versions of each paragraph or sentence – and then it randomly picks from those options to make new versions of articles. Check it out. (Update: since this was written, that site no longer exists. However, I do have a copy which you can download as a ZIP file: articlerewriter.zip (Right click and "save as...")
You take your original article and change it out with these alternates and then create new alternatives. For three other versions, you get something over 10,000 variations before it possibly starts repeating – or something like that. We'll only need about 5 – 10 for the top article directories.
That author of Article Re-Writer also recommended WordFlood . Linked is the free version. This is a tool which helps you select synonyms and create different versions of your original.
(I don't say this is the best article-rewriter out there. And I've spent hours and $$'s checking these out. Feel free. There are tons out there to look at and test drive - I even tried out another one today, but it bombed. This one is free and easy to use.)
The sequence is:
Post your blog.

Save this as a text file.

Take that text and drop it into WordFlood to make two additional variations of it.

Drop those variations each into Article Re-Writer, along with the original, paragraph by paragraph in order make all the possible combinations of your three articles you could ever want.

Test these articles against the original in Dupe-Free Pro in order to ensure you have 40% or greater variation and avoid the duplicate content penalty.

Submit the passing articles to our short list of article directories (below)
Now, there is a format which article directories use. And it's easier to learn by doing than telling it here. Headline – Summary – Body – Tags – Bio (About the Author). These are the key points all articles have. The most key is to ensure you have your blog – and preferably the direct link to your article – in the Bio section. Ezine Articles (the industry leader) only allows two links in the Bio section, but others generally allow three. Check out that link and find out more about how and why to turn your blog posts into articles.
Article Directory Big Shots
These are the key article directories which should send traffic to your blog:
And the fullest, most succinct explanation of how and why to submit articles I found on the page this list came from – Charles Heflin's SEO 20/20 .
But you might think that having to copy and paste all these variations in is time-consuming. You're right. But I have another solution for you – and article submitter that almost does it all for you. Just not quite. And you actually want to have it stop and ask you, so you can submit "unique" articles to each directory. Here's Article Submitter 1.18 . Kind of clunky-primitive, but it does the job.
And there you go – now you have all the tools to become an incredibly prolific article author and publisher. And actually, these tools cut down the time it takes to submit "unique" articles to the top 10 article directories in an hour or so from the point you start. (Think of it in terms of what you'd have to do in order to write 10 original articles and submit by hand…)
Also, keep in mind the benefits – you'll have more people finding your articles and then coming to your blog to get educated, enlightened, and/or entertained.
Update: New techniques replace old stand-by's. Instead of using a stand-alone article submitter, you can do the same with Firefox browser (and maybe IE):
a. Visit each site above and bookmark them into a single folder (like "article directories"). As you find more good article directories, you can add them as bookmarks to that folder.
b. Now, when you have all the versions of articles you want to use, simply open these bookmarks up in their own tab - you'll be able to right-click and do them all at once. Firefox will remember your passwords and log you in automatically.
c. Then you copy/paste your re-written article into each directory and close that tab when you're done. Simple.